Spinal Cord Stimulation Clearwater
What is a Spinal Cord Stimulator?
Spinal Cord Stimulators help people who suffer from chronic pain that has not been fixed with other treatment. Pain is the body's way of protecting an injury until healing takes place. A person with chronic pain still feels pain after the injury is successfully treated. For example a patient might undergo surgery to fix a lower back problem and after the usual recovery period for surgery, the MRI of the spine looks perfect, but the pain still persists.
Chronic pain of this nature should be treated as a condition, not a symptom. Patients who are still in pain after a back or neck surgery may be a candidate for a spinal cord stimulator. Stimulators are FDA approved and use Neurostimulation to interrupt or block pain impulses before they reach the brain. This nonnarcotic treatment helps patients manage chronic pain and drastically improves their quality of life. SCS are often used in patients suffering from Failed Back Surgery Syndrome (FBSS) or any patient who is seeking treatment of chronic pain and not responding well to other treatment options.
Using a minimally-invasive procedure, SCS patients can try the device in normal, daily settings before deciding if it's right for them. Over 70% of patients who try the stimulator feel at least 50% relief and decide to commit to the implant. Both the trial and implant surgeries are minimally invasive procedures.
FDA Approved
FDA approved for pain management and chronic pain sufferers without the use of addictive narcotics.
Minimally-Invasive
Done as an outpatient procedure, patients recover faster and with less pain than traditional spine procedures.
Non-Narcotic / Non Addictive
People experiencing chronic pain often turn to pain medications. Break free from dependance with a Spinal Cord Stimulator.
Try It First
Spinal Cord Stimulators are unique because every patient has a 3-7 day trial period before committing to the final procedure.
Covered By Insurance
For those who have had previous failed back treatments, a Spinal Cord Stimulator is covered by most insurances, including government subsidized plans.
Reversible
If you decide at any time after the procedure that it is not right for you anymore, it is 100% reversible and removable.
Who is a Candidate for a Spinal Cord Stimulator?
SCS therapy is most often prescribed for patients with chronic pain. Chronic pain is generally described as pain that lasts more than 12 weeks or continues after the cause is gone. Patients who experience chronic pain after surgery may be diagnosed with a condition called Failed Back Surgery Syndrome (FBSS). Failed Back Surgery Syndrome does not necessarily mean the procedure failed or that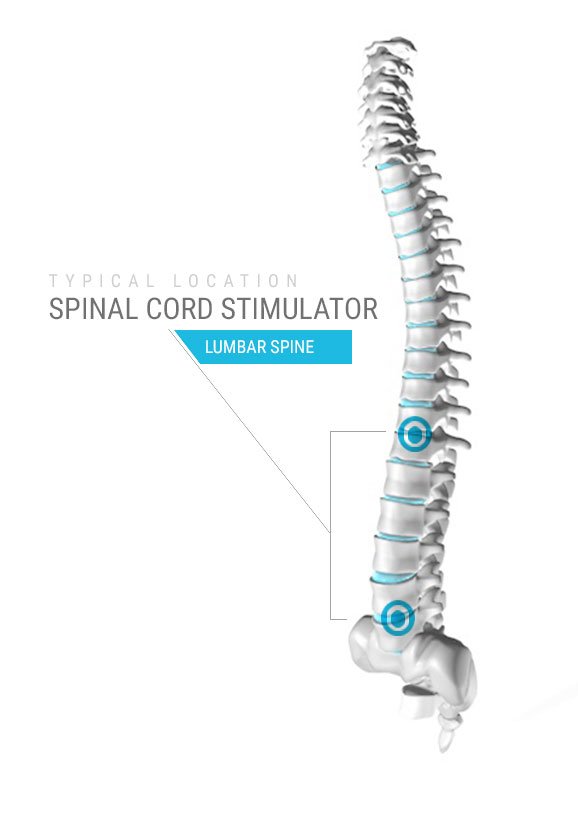 you had a bad surgeon, but that the pain still remains after the normal healing process. Other criteria for patients considering a Spinal Cord Stimulator:
Poor response to other conservative treatments like physical therapy or injections
Persistent lower back or leg pain
Have undergone previous spine surgeries and are still experiencing chronic pain
Additional surgeries are not an option or show low chance of success
Been diagnosed with Failed Back Surgery Syndrome
Not taking prescription narcotics or willingness to stop after implantation
No psychological factors contributing to the pain
Pain is not associated with cancer or a tumor (malignancy)
How Does a Spinal Cord Stimulator Work?
A Spinal Cord Stimulator is a small device that is placed surgically under the skin. Thin leads or wires carry mild, low voltage current from the device to your spinal cord's nerve fibers. The current works by stimulating these nerves in the area where the pain is felt. This interrupts and masks the pain signals before they reach the brain, creating relief.
These signals are controlled by a hand-held device or remote that can be changed by the patient. The remote, often an ipod touch, talks remotely to the implant and can updated real time to optimize relief day or night.
A SCS does not eliminate the source of the pain. It simply masks the pain so the patient can have a better quality of life. Since the sensation of pain is part of our body's natural defense system, a Spinal Cord Stimulator is most often used to treat chronic pain and for patients who have not responded to traditional therapies.
What is a Spinal Cord Stimulator Trial?
A SCS differs drastically from other surgical minimally invasive treatment options because it offers a trial period for patients to try it before they commit to the final surgery. A Spinal Cord Stimulator trial usually lasts 5-7 days and about 70% of people will find enough relief from the SCS to get the permanent implant.
Steps Of The Trial SCS Surgery
A local anesthetic is given to numb the area where the leads will be inserted.
A hollow needle is inserted into the epidural space between the bone and spinal cord using x-ray fluoroscopy to guide placement.
The trial lead or leads are inserted in through the needle and positioned over the specific nerves generating a patient's pain.
The SCS will be turned on by the surgeon to see if the patient feels any relief. The process will be repeated if necessary to make sure the stimulator is sending the impulses to the correct nerves.
The patient will be sent home with an external generator attached to a belt as well as a handheld ipod to control the SCS.
Instructions on how to use the SCS and a written log on pain relief are also sent home with the patient.
After 5-7 days, the trial will be complete and the patient will discuss pain relief with their surgeon.
Who should receive a permanent spinal cord stimulator?
The trial is considered successful is the patient experiences greater than 50% improvement in pain. Most of these patients decide to schedule a permanent implant of the spinal cord stimulator. The generator will be implanted in a small incision on the back, just below the patient's wasteline near the buttock and will no longer be worn on an external belt.
Minimal Wait Time

You shouldn't have to wait a profound amount of time to see a physician we'll get you in, in two weeks or less.

Education Is Key

We believe in educating our patients so they feel empowered when making decisions about their care.

3 Convenient Locations

We are easily accessible with 3 locations that are able to provide the same quality of care.

Multi-Specialty Practice

We pride ourselves on providing our patients with care from physicians who specialize in their needs.
When is Joint Replacement Necessary?

Joint pain can significantly impact one's quality of life, leading to limited mobility and chronic discomfort. While there are many non-invasive treatment options, in some cases, joint replacement ...

Read Post

Gentle Summer Activities to Limit Back Pain

Summer is the perfect time to get out and enjoy the great outdoors, but it can be a season of discomfort and limitation for those with back pain. However, there are several gentle activities you can ...

Read Post

How to Avoid Back Pain on Summer Road Trips

School's out for the summer, and your PTO is saved up; it's time to hit the road! There's no better time for a scenic road trip than during the summer season. However, long periods of sitting can lead ...

Read Post