Spondylosis Treatment in Clearwater
Spondylosis is a broad medical term used to describe back pain generally caused by wear and tear during the body's aging process. People suffering from Spondylosis have symptoms ranging from spinal neck pain to joint pain to bone pain.
Most often, Spondylosis is caused by spinal osteoarthritis or degenerative disc disease, but it can be used to describe any manner of spinal degeneration.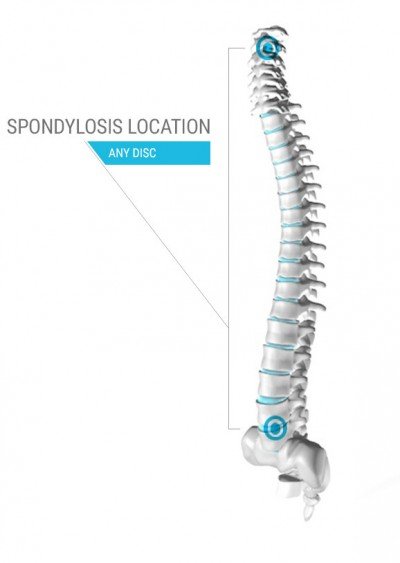 What Are the Symptoms of Spondylosis?
The physical symptoms of Spondylosis include the following:
Back Pain
Neck Pain
Joint Pain
Weakness
Osteoarthritis
Lumbar Spine Pain
Tingling
Numbness
Loss/Restriction of Motion
What Causes Spondylosis?
Spondylosis is most often caused by the natural aging process. Although spondylosis a broad term used for back pain caused by wear and tear, specialists most commonly use it to describe osteoarthritis. Spondylosis is caused when discs, muscles, or cartilage deteriorate naturally over time.
This can result in:
Pain
Stiffness
Weakness
And other symptoms
While natural degeneration is the most likely cause for Spondylosis, people who are overweight, genetically predisposed or have had a history of spine injuries, may be at a higher risk.
How is Spondylosis Diagnosed?
Your doctor will schedule a physical exam and history report as the first step to determining if you suffer from Spondylosis. X-rays, MRIs and CT scans are generally scheduled as a follow up to pinpoint specific causes of your pain from Spondylosis.
How is Spondylosis Treated?
Most patients with Spondylosis can be treated non-surgically through conservative care. The patients must be educated to understand the goal of therapy and have realistic expectations.
Treatment begins with the simplest mode of therapy, such as temporary limitations of physical activities and non steroidal anti-inflammatory drugs (nsaids). If no improvement occurs over a 3-6 week period, a change in the type of Nsaid or a trial of epidural steroid injections may be considered. Bracing may also be an option.
Physical therapy has variable affects. Patients who do not respond to conservative treatments, or whose Spondylosis is debilitating may be candidates for surgery. Talk to your surgeon about what option is right for you.
Minimal Wait Time

You shouldn't have to wait a profound amount of time to see a physician we'll get you in, in two weeks or less.

Education Is Key

We believe in educating our patients so they feel empowered when making decisions about their care.

3 Convenient Locations

We are easily accessible with 3 locations that are able to provide the same quality of care.

Multi-Specialty Practice

We pride ourselves on providing our patients with care from physicians who specialize in their needs.
When is Joint Replacement Necessary?

Joint pain can significantly impact one's quality of life, leading to limited mobility and chronic discomfort. While there are many non-invasive treatment options, in some cases, joint replacement ...

Read Post

Gentle Summer Activities to Limit Back Pain

Summer is the perfect time to get out and enjoy the great outdoors, but it can be a season of discomfort and limitation for those with back pain. However, there are several gentle activities you can ...

Read Post

How to Avoid Back Pain on Summer Road Trips

School's out for the summer, and your PTO is saved up; it's time to hit the road! There's no better time for a scenic road trip than during the summer season. However, long periods of sitting can lead ...

Read Post