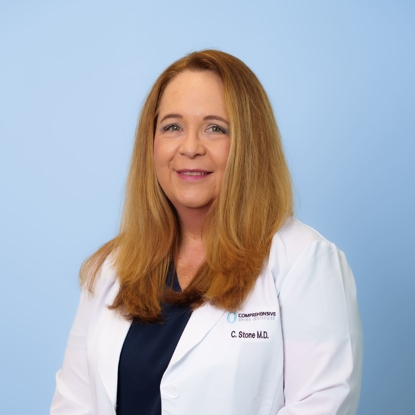 Dr. Stone Interventional Pain Management
Bio
Carissa Stone, M.D. is an Interventional Pain Physician with Comprehensive Spine Institute. Having a first-hand role model, seeing her mother work as a physician while growing up, Carissa Stone M.D. became attracted to the idea of being a physician. Her drive to help others, fuels continual learning and training within her field.
She relates that same love of science to her current patients offering a cutting edge look into each case viewing each patient situation as a unique puzzle that she enjoys solving.
Practicing pain management for over two decades now, Dr. Stone got her start in the field after beginning her residency in Anesthesiology at the University of South Florida. She later completed a fellowship in Spinal Cord Injury and Rehabilitation at the James Haley VA. She chose the path of Anesthesia, because of the interventional procedures it has included in the diagnostic workups. Participates in Stim Wave peripheral nerve stimulator trials and implants and has had a poster presentation accepted at North American Neuromodulation Society annual meeting in Las Vegas, NV, and participates in clinical research with Clinical Research of West Florida, studying Complex Regional Pain Syndrome and recently special injection medications for epidural herniated discs.
Dr. Stone cares about the totality of her patients' health, and not just the pain. Therefore, she has a holistic approach to treat the whole person. This includes integrating wellness and nutrition aspects of treatment for a patient, such as any weight loss and dietary changes as necessary, psychology and therapy recommendations.
Dr. Stone places much importance on giving back to the community, volunteering with Alliance Defending Freedom and assisting in events Cornerstone Ministries whos' purpose is to benefit underprivileged kids.
Her favorite activities to do in her free time are spending time with her family, preparing holiday meals and researching family ancestry.